Featured Books
Genre: girl powered adventure
During the next two weeks, you can get an AUTOGRAPHED copy of MOTOR DOLLS for 30% off from the Motor Palace Press Store! Just indicate in comments who you would like it autographed to and enter promotional code (BOOKGOODIES) at checkout. (link: https://squareup.com/market/motor-palace-press/motor-dolls) Want an eBook? During this feature, the price will drop from to 2.99 to just 1.99 from November 11-18!
MOTOR DOLLS! A thrilling adventure featuring hot rods, motorcycles, a daredevil girl, and a photographer who captures the madness on film! MOTOR DOLLS takes the reader on a thrilling, girl-powered ride in search of life's passions, featuring:
Jeda, a graphic artist full of bad-assery…
…and Benny, a photographer seeking her Perfect Moment on film.
A prophecy shared by a stranger on the day of her grandmother's death pushes Jeda to live like there's no tomorrow, chasing one outrageous stunt after another, all instigated by mysterious messages from an unknown source. But when the danger escalates, she begins to question the motive behind it all: Is she simply nuts? Or is some mysterious man in gray really trying to drive her to her death?
In her search for answers, Jeda lets Benny in on the secret, and since Benny is at a crossroads—finish her Masters in Geology? or drop out of school to pursue her true passion? —she agrees to help. As Benny documents the madness of Jeda's life on film—like driving in a Blindfolded Death Race and luging downhill on a skateboard with no brakes—they learn the truth behind the enigmatic man in gray; a truth that tests the foundations of Jeda's family and of their friendship.
WHAT READERS ARE SAYING!
"Rich with imagery, this is one of those books that just makes the rest of the world go away it's so engaging. A story about a pair of car-loving college-aged gals and good pals during their Summer of Thrills. Not only do I love the adventures and mystery that they find themselves in the middle of, but I love that the two main characters are thoroughly unique, independent, and courageous." – KRISTIN MARTIN, Automotive Journalist and founder of GreaseGirl.com
_____________________
"I devoured this book on a rainy sick day. It is accessible and easy to read while being very engaging, descriptive and colorful. By the time I was halfway through, I wanted to grab a friend and hop in the car for a road trip. Motor Dolls is a great story about friendship, youth and discovering who you are, with a fun mystery to tie it all together." – KAT TESSIER, Hells Belles Car Club
_____________________
"The Motor Dolls plot is a high velocity who-done-it, guaranteed to get you arrested for speed reading. This is the very definition of a page turner, as it has pages that turn and everything. A must read for aspiring escape artists!" – SCOTTY GOSSON, Author of Rat Rods, America's Favorite Station Wagons, and Wildest Show Rods
_____________________
"Hoowee! I can assure you this book is as much fun as it sounds. It's easy to see this book was written by a woman who knows her way around the garage and with a knack for creating believable characters, even in unbelievable situations. Little quirks make the characters seem very real, like someone you know or could easily know.- SHERI BOMB, Australian Rockabilly Blogger
_____________________
"Seldom do I fall in love with characters or a story so far from what I would consider my comfort zone, but with Jeda and Benny, you just can't help it. Excellently written, wonderfully thought out, a perfect adventure of laughs, danger and mystery. Harder and harder to put down as you flip each page." – JOHNATHAN DENNEY, Photographer
_____________________
Featured Books
About The Cat's Guide to Enjoying Exercise by Debby Rodgers
These gorgeous cats are having a great time playing at home, and getting some exercise at the same time! Follow Jonty Bloom as she leads her friends through a fun workout. A children's poem to encourage them to have fun while they exercise.
About Terminus (Fringe Worlds #1) by Kevin Hardman
Master Sergeant Gant Maker was a highly-decorated and well-respected Marine – until his last mission left him as the sole survivor of an encounter with a vicious race called the Vacra. Served up as a scapegoat and drummed out of the military, he has since lived a life of seclusion with only an adopted alien as a companion.
Now the Vacra have returned. As the only person to have ever faced them and survived, Maker is reinstated in the Corps and given the onerous task of finding this enemy on a world located at the edge of known space. Assisting him is an unlikely band of military rejects, including a blind sharpshooter, an unstable psychic, and a genetically-engineered killing machine who refuses to fight.
Given that the Vacra have superior weapons and technology, Maker recognizes that his team is at a distinct disadvantage. But Marines are nothing if not resourceful, and Maker has an audacious plan that just may level the playing field – if it doesn't get them all killed.
About Adriana's Secrets by Cheryl Colwell
Tragedy strikes the mountain town of Mont Castello, the home of Adriana Montebelli. Orphaned in 1888, Adriana's life is swept along at the whim of forceful men who decide where she will live and who she will marry. Instead of breaking her, their cruel deceptions toughen her resolve to take control. Though she rises to manage the vast Van Buren estate, she wonders if her broken heart will have the strength to love again.
Follow Adriana's journey as she navigates the challenges of woman's suffrage, union violence, and the tragic hardships of love and loss, while managing to cling to her faith.
About Crave: Tales of Vampire Romance Boxed Set
Immortal. Impassioned. Impossibly sexy. These vampires are masters of seduction, delightfully dark creatures with insatiable appetites who are hungry for more than just hot blood. Let them lure you with their magnetic gaze, their fascinating charm, their intoxicating bite, into a dark, delicious world that has everything you CRAVE.
Sink your teeth into this quintessential boxed set collection of eight vampire romance novels filled with exquisite obsession and dark desire from some of your favorite USA Today and New York Times bestselling authors.
If you enjoyed THIRST and HUNGER, this boxed set will be everything you CRAVE!
About Reflections of a Successful Wallflower – Lessons in Business; Lessons in Life by Andrea Michaels
FOR THE HOLIDAYS ONLY! REFLECTIONS OF A SUCCESSFUL WALLFLOWER – LESSONS IN BUSINESS; LESSONS IN LIFE – THE KINDLE EDITION IS DISCOUNTED!
GET IT FOR $2.99 INSTEAD OF THE NORMAL $9.99 PRICE. A GREAT SAVINGS FOR A WONDERFUL HOLIDAY GIFT!
Andrea Michaels is literally one of the backbones of the special events industry.She received the one-time only "Pillar of the Industry" Awards in January, 2014, from Special Events magazine. Launching her business when there was no formalized or defined marketplace, she was and still is a trailblazer, pioneering the way for others to follow. Always on the cutting edge of the business, she has stacked up a pile of firsts (and 50 prestigious awards) in her legendary career – from initiating corporate branding and messaging into events and interactive themes that create experiences for the guests to entering the international market ahead of her colleagues and incorporating never-before-used technology into her events, just to name a few. That alone should make her extraordinary, but she runs much deeper. Noted as one of the most caring and giving educators of our time, she has traveled the world to teach others not just her art and craft but to help them learn from her own mistakes. How did this genius evolve? Why is she so revered by all her peers? What does she know that we don't? Reflections of a Successful Wallflower can only be compared to reading Andrea's diaries. This first inductee into the industry Hall of Fame shares, openly and candidly, not only the public wunderkind but the inner woman. Discover the workings of one of the foremost event producers in the world. You'll laugh; you'll cry; you'll be in disbelief and fascinated at the same time. She is a storyteller, and her stories and her life are great lessons for everyone.
About The Ship by Allan Krummenacker
Cassandra Elliott is a billionaire heiress, who has just come out of the closet. She's also a powerful psychic who has seen incredible and terrifying things. In fact, just two weeks ago, she and her girlfriend Julie Cloudfoot, survived a horrific battle alongside their two friends Alex Hill and Veronica Ross. They faced a being from a parallel reality where evolution took a much different course than in this version of Earth.
As a result of that encounter the two of them have come to Santa Cruz to bury one of their own as well as to see if their new relationship will work out.
While taking a surfing class Cassie finds herself under attack and barely escapes with her life. But this is only the beginning. Whatever attacked her left a mark on her leg and now she is experiencing terrifying visions and senses the approach of something hiding in the fog. A legendary ghost ship is coming for her. However this is no ordinary nightmare of the sea. This vessel is alive and wants to make her a part of it, literally…
Bargain Price: $2.99
About The Red Bishop by Greg Boose
Lake Price isn't your average teenage girl.
Sure, she and her friends are doing what many other high school kids do on Cape Cod: heading to Chatham Manor—nicknamed "Hell"—for a good scare. But for Lake, it's more than just a thrill-seeking game. It's what keeps her alive.
Ever since her brother, Kimball, disappeared four years ago, Lake has needed the danger and the fear to feel anything but numb.
But on this night, "Hell" has more in store for Lake than she ever anticipated: A handsome stranger from the 17th century, a modern love triangle, a coven of witches, a hint that Kimball may still be alive… and the start to something that only she can finish.
About After the Evil – A Jake Roberts Novel by Cary Allen Stone
Lori Powers loved being a flight attendant because life at home was a constant nightmare of physical and mental abuse. But her own trauma paled in comparison to her husband's sexual abuse of their only child. Emily's suicide note blamed Lori for failing to protect her. Overwhelmed by guilt, Lori sought justice for her Emily. When she heard the voices, she murdered domineering, abusive men whose misfortune brought them across her path.
The murder of Dr. Thaddeus Abrams, the precinct's psychiatrist brought FBI profiler Mika Scott back to the precinct she began as a homicide detective and also face to face with her past partner and lover Detective Jake Roberts. Together they search for the killer. Michael Gates, Abrams' lover, wanted to punish Lori. It cost Chief of Detectives Ed Fairchild his life. Airline captain Nick Parker had an insatiable, deviant sexual appetite. Things went desperately wrong when young flight attendant Megan joined him on a layover. Lori was part of the crew. When she met Parker, she heard Emily cry out from the grave.
About SEAL's Promise by Sharon Hamilton
Special Operator T.J. Talbot had watched from afar as his best friend married the love of his life. Raised in and out of the foster care system and nearly ruining his chance to become a SEAL, he figured his Happily Ever After would never be. But Dr. Death plays a heartbreaking trick on him and he winds up being the man's father confessor, where he makes a promise to the dying SEAL to look after his friend's wife and baby.
Back in the states, Shannon Moore is grateful for the baby she is carrying, though she is a constant reminder of the man who no longer lives at her side. She is not ready for the attention from the community she receives, especially from T.J. She's decided to honor her fallen husband by giving her whole life to the child he left behind.
Recovering from his wounds, Talbot is plagued by the depth of the wounds he still carries inside him, as he tries to perform a mission he wishes he was not given. Rebuffed at every turn, he struggles but understands his promise might not be able to be fulfilled. He does not want to take what was never given to him in the first place.
But what starts out as an improbable love story begins to bloom and grow. When Shannon and the child are endangered, he will not quit fighting for the family he now knows he was meant to love forever.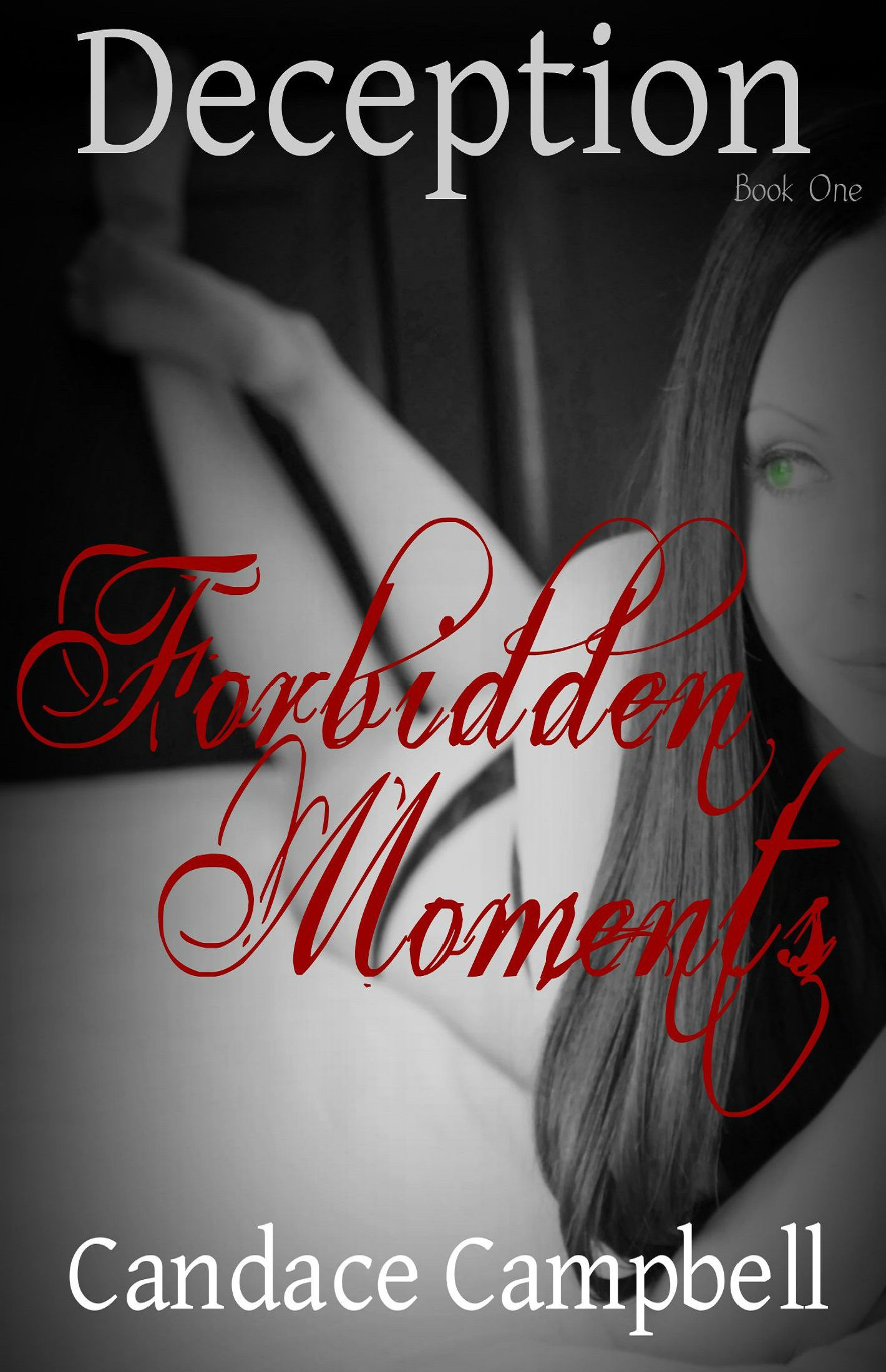 About Forbidden Moments by Candace Campbell
Forbidden Moments free eBook
"Fate kept pushing Talia to him over and over again a man who was everything she wanted mixed with everything she needed to stay away from. He had a power over her, she was drawn to the sweet seduction but it was worth it to know, to feel, to love."
"Emerson Rose knew just how to kiss her, how to make her melt into him, he knew where to touch her in all the places that made her body shake with pleasure. He knew her so well. As passionate as his kiss was, he was in no rush for it to end. He took his time with her, making it last as long as he could as he feared it would be the last time she let him touch her so intimately. They both enjoyed each touch, each kiss, as if they were both lost to the connection that drew them to each other. Talia had never been kissed so thoroughly or with so much tenderness or desire and he had never wanted to kiss a woman more. When he finally released her, she gasped for air and she stared at him and they both knew they would never be the same again. It would never work it was forbidden but they just could stay away."