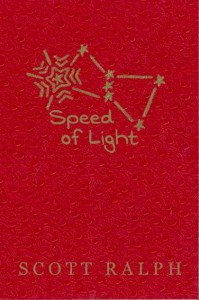 High school student and obsessive journal writer Rylie Kirklen is having a difficult sophomore year. A heavy load of classwork, overly competitive friends and a serious sports injury have made the first weeks of school a living hell. She finally gets the chance to relax by herself for a few days when her parents leave to celebrate their anniversary in Key West, but even that respite is cut short when the lights go out one night. What begins with a quiet candlelit evening deteriorates into a desperate situation for Rylie's community as the power stays off for weeks. Resources and information run short while rumors abound, and her circumstances are worsened as her parents remain absent long after they were expected home.
A complete breakdown of public services makes for a very harsh world when people who are used to the comforts of modern society try to survive a new, lawless reality. Rylie discovers for herself the dangers of a populace in despair as she fends off attackers, buries friends, and takes a daring road trip through a treacherous urban landscape in an effort to find help. With her parents missing and the world she once knew crumbling around her, Rylie chronicles her struggle to navigate the boundary between her comfortable past and an uncertain dystopian tomorrow.
Targeted Age Group:: Young Adult and above
What Inspired You to Write Your Book?
My family lives in a house on a corner lot and we have a trio of windows that allow us to look down both of the streets. I imagine that it would be the perfect spot to keep an eye on the neighborhood. One day I had this picture in my head of my daughter, years from now, watching a group of strangers through the windows as they came up the street while she was stuck at home alone during a natural disaster. I started writing some notes and the story got bigger and bigger and came to life, and Speed of Light came to be.
How Did You Come up With Your Characters?
The main character, Rylie Kirklen, is based on an imaginary version of my daughter as a teenager. The rest are fictional. That being said, it would be disingenuous for me to tell you that different people didn't pop into my mind as I was developing each one of them. But none of my secondary characters are based on any single person in my life.
About the Author:
Scott Ralph was born in Goldsboro, North Carolina, and traveled extensively as a military brat until the end of high school. Much of his childhood was spent hiding out in base libraries or burning his allowance money at Stars and Stripes bookstores across the world. He became a teacher in the late 1990s and during his time in the classroom he enjoyed sharing stories of his unique upbringing with his students. This love of stories, bookstores, and libraries led him to author a few novels of his own.
Scott lives in central Florida with his wife and daughter. He still gets called to come in and cover a classroom whenever a real teacher just can't take it anymore.
Author Home Page Link
Links to Purchase eBooks
Link To Buy Speed of Light On Amazon
Social Media:
Goodreads
Facebook
Twitter
Have you read this book or another by this author? If you have, please scroll past the book sample and tell us about it in the comments!
Book Sample: