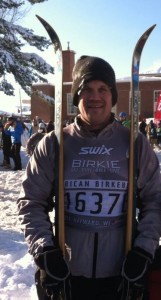 Author Bio:
Martin Gibbs lives in the snow-covered paradise of Minnesota, where he writes novels, short stories, and poetry. By day he is an IT professional, though his passion for writing has led him down an intricate network of exciting roads.
Gibbs is an avid reader. He favors the classics: Dumas, Dickens, Tolstoy, Proust, Lovecraft; as well as Stephen King, Robert Jordan, George RR Martin.
He enjoys cross-country skiing, biking, and burning béarnaise sauce. He has two very active boys who share his wild imagination, and a wonderful wife who supports all the craziness.
What inspires you to write?
On the first day of class, my freshman high school English teacher gave our class a challenge: The first person to get published in a magazine or journal would receive an A for the quarter. I started writing poetry like a madman; it was rather quickly that I heard back from Chimera Children's Magazine. They had agreed to publish my piece, "Don't Patronize Me." Mr. Poss was impressed, for he wanted to impress upon us the reality that a writer's desk contains more rejection letters than their own material. He wasn't wrong—it would be twenty years before a "real" publisher took any of my work!
Yet I keep writing. And reading.
Tell us about your writing process.
I used to write by the seat of my pants—then wondered why everything got rejected. Then I read (twice!) the unabridged Count of Monte Cristo by Dumas. Somebody developed a Visio plot flow for that thing—and it's huge! None of my stuff has that much intricate plotting between characters, as I don't want to have 1200-page novels; however, I took a lesson from Dumas and I plot. I do use Visio (which reveals my IT personality), and I outline the flow, and diagram the relationships between characters.
Outlines are very helpful. I may not fill them out to the detail but it really helps me keep organized. For Visio, it shows me where a certain character should know something, or more importantly, should NOT know something.
For Fiction Writers: Do you listen (or talk to) to your characters?
They talk to me. A lot. I can hear their voices as I write drafts.
Bailey in Love's Pale Road visits me from time to time. I see his innocent face, and the guitar slung across his back; he sees me but he's talking to someone else. He's talking to my father, who passed away several years ago: He's talking to him, but I only get to see Bailey's side of the conversation. Then the guitar becomes a sword—
Ah, but that would give away too much… I wonder sometimes what dreams Stephen King has. I read The Shining years ago, but still can see the Overlook hotel; I can feel the horror within; the absolute isolation.
What advice would you give other writers?
Don't take yourself too seriously and don't get worked up about the small things. Also, I think this is a journey rather than any destination–we're never really going to arrive. If we think we have arrived, then we are mistaken. Write, write, write. Read, read, read! As long as you keep practicing your craft, accept criticism and advice (and go with it!), you will do well.
Now: "Doing well" does not mean sales! I don't sell my stuff, but yet I keep writing because I love it. My favorite stories and books to write are those which will only appeal to a very narrow audience. But that is what energizes me.
How did you decide how to publish your books?
I still try to find a traditional publisher. In fact, I do have a contract for four books with one; yet I still self-publish a lot also. I like the freedom of self-publishing, but it also means that, even with editors, proof-readers, graphics artists, things slip by that aren't 100%. Some readers are OK with that: They want the story and don't care who published it. But the market is really saturated now with self-pubbed books: Which ones are gems?
Working with a traditional publisher has its own challenges. You aren't on your own timeline. I can push and push all I want for a certain release date, but until the book is ready on their end, it ain't happening. Now, the benefits there are distribution (trying to distribute as a self-published author on Ingram is an adventure like no other!) and a little marketing.
Either way, you have to own your work. It won't sell itself.
What do you think about the future of book publishing?
I think books will go away and even e-books will fade. I'm sorry, but I see an entire generation walking around, staring at small screens, sending out transmissions in a whole new language. How can I convince them to read a 50k-word novel when they can only handle a 140 characters at a time?!
Those of us who prefer the printed page will be trading dusty tomes of Stephen King and Mark Twain in darkened alleys, while the rest of the world walks by, their entire world only a few inches wide.
A little exaggeration, but I do think (as much as I hate to admit), that reading as a pastime will fade away. It's up to the authors to figure out a way to get their streams across to both the short-attention-spanners and those who can sit for more than an hour and read a book.
What do you use?
Professional Editor, Professional Cover Designer
What genres do you write?
fantasy, bizarro, christian fiction
What formats are your books in?
Both eBook and Print
Website(s)
Martin Gibbs Home Page Link
Your Social Media Links
http://www.goodreads.com/author/show/5754534.Martin_D_Gibbs
https://twitter.com/MartinGibbs2
http://www.pinterest.com/glyndwr99/