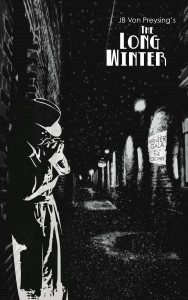 Author Bio:
JB Von Preysing (1984- ) was born in Rockville Centre, NY, the middle child of five. He moved at the age of six to Sao Paulo, Brazil, and by the time he graduated high school, his family had bounced between New York, Virginia and Florida. He went to the University of South Florida for a theater degree, but realized it wasn't the path he needed to take. Since 2006, he's lived in Chicago, Portland, Brooklyn, Tampa, and the countrysides of Virginia and Georgia as he developed his skills in the art of storytelling.
What inspires you to write?
Inspiration comes from experience. I've moved a lot, so meeting new people, seeing new places, and experiencing new things are the cliche responses to that, but true. A good day, a crazy night, a beautiful woman, or a combination of those three also have helped the creative juices flow. It honestly just depends on what I'm writing and where I'm at. All I can hope for is to have a pen on me when it comes.
Tell us about your writing process.
I usually do an outline in notebooks first, then I transfer it over to Word, but it's not Gospel. I allow my characters to dictate the action. That tends to lead me to places I wasn't expecting to go, but it fits the story well enough.
For Fiction Writers: Do you listen (or talk to) to your characters?
I listen to them. Sometimes, they have better ideas than I do. I can go into a scene, thinking the action will go this way, but then my characters let me know that's not how they would react in that situation. I never force the action; my characters dictate the story to me.
What advice would you give other writers?
If you're not entertained by what you're writing, that's a problem.
How did you decide how to publish your books?
My editor told me to go the self-publishing route, and after not receiving any real interest from literary agents, I decided to dive head first into it. I prefer the independence of it, personally, but it's more work; everyday you're hustling.
What do you think about the future of book publishing?
Self-publishing ebooks is the future of the business. Printed books will still have their place as the standard to which all writers aspire, but it will most likely be reserved to the big kids who have followings. For aspiring writers who want to kick in the door of the industry, the digital door is the one to kick.
What genres do you write?
Mystery, Crime Fiction, Noir, Hard-boiled, Detective
What formats are your books in?
eBook
Website(s)
JB Von Preysing Home Page Link
Link To JB Von Preysing Page On Amazon
Your Social Media Links
https://www.goodreads.com/author/show/8330913.J_B_Von_Preysing
https://twitter.com/JBVonPreysing