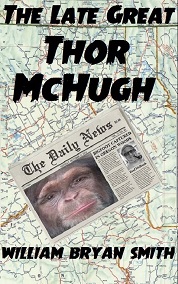 Lucy Glass had often dreamed of the father she'd never known, imagining he was a world-famous surgeon or perhaps an airline pilot. What she didn't expect was that he was Thor McHugh, an aging, self-absorbed Bigfoot hunter. Living off the funding of a 4th tier university, McHugh and his partner, Ames, share a comfortable yet insular life in their fortified compound. But when a new chancellor takes over, McHugh suddenly finds himself cash strapped and out of a job. For Lucy, the stakes are much higher. Ailing from a rare terminal illness, her only hope is to locate any relatives that may be potential tissue donors. With the assistance of a private eye, Lucy tracks down her father and his two other illegitimate children who are her brothers. Together, they converge on McHugh's compound with a resulting clash of wills and personalities that ebbs and flows as they learn more about the flippant con man who paid off their respective mothers to be rid of them. Will the aging McHugh find redemption in the form of his now-adult children? Will he succeed in reclaiming his funding? More importantly, will Lucy find a match?
Targeted Age Group:: Adult
What Inspired You to Write Your Book?
I was inspired by the writing of J.D. Salinger, the films of Wes Anderson, the television show "Arrested Development", and the murky, pseudo-documentaries of the 1970s, like "In Search Of…"
How Did You Come up With Your Characters?
I was interested in the premise of taking seemingly one-dimensional stock characters like a single, detached romance writer, a cowboy car salesman, and a depressed insurance actuary, and the challenge of turning them into real, three dimensional characters.
Book Sample
Excerpt
Chapter 1.
Extract from Animal X Magazine, Volume 5, No.3:
Thor McHugh—The Real McCoy
"We first met Thor McHugh in 1972 when the then 20-year-old adventurer and self-styled monster hunter had released still photos of a film purported by McHugh to depict a Bigfoot. The images, enhanced color frames (to the best of 1972's technological abilities), showed a lumbering, fur-covered creature—clearly female as evidenced by its breasts—apparently walking across a clearing in a wooded area in Northern California. The photos graced the front pages of papers and magazines around the world with headlines such as "Bigfoot Caught on Film" (The New York Times), "Monsters Exist!" (The Daily Mirror) and "Bigfoot Nude—An Exclusive Pictorial" (Hustler).
"The photos succeeded in generating a buzz and McHugh capitalized on the hysteria by selling exclusive rights to the film to ABC News for a then-unheard of one-hundred-thousand dollars. An instant celebrity, McHugh traveled the world in search of mysterious creatures. For over forty years, he has dedicated his life to the field of cryptozoology, and we have him here, in an exclusive interview with Animal X Magazine."
Animal X Magazine: You're a Bigfoot hunter.
Thor McHugh: I prefer the term researcher. "Hunter" implies sport. This is not sport. I am not a hobbyist. I am a full-time researcher. You wouldn't call Jane Goodall a "monkey hunter" would you?
AXM: But you intend to shoot and kill a Bigfoot?
TM: That's right.
AXM: Eyewitnesses fortunate enough to have encountered a Bigfoot describe it as being very human-like and having an unquestionable intelligence. How can you justify killing one?
TM: How else are we going to dissect one and see what makes it tick?
AXM: You are arguably the foremost expert on Bigfoot. Your research organization, the Bigfoot Emergency Response Program—
TM: Burp.
AXM: I'm sorry—
TM: B-E-R-P. We call it Burp for short.
AXM: Okay, BERP—is the largest organization of its kind in North America.
TM: Actually, the world.
AXM: …Employing a team of twenty-five full-time investigators dedicated for the sole purpose of tracking a Bigfoot, killing it, and presenting it to the greater scientific community.
TM: That's right.
AXM: Can you walk us through a little bit of the day-to-day operations of BERP?
TM: We wake up at five AM—
AXM: The entire team lives full-time at the facility?
TM: The barracks can support upwards to one-hundred people.
AXM: Fascinating.
TM: My man-servant, Ames, prepares our breakfast. Then we consult our electronic—
Ames looked up from the article. "Man-servant?" The magazine had come with the morning's mail. He turned to the man seated in the red wing-back chair, dressed in satin pajamas and matching slippers.
Thor McHugh regarded Ames thoughtfully from behind his pipe. "You're not going to make a big deal of that, are you?"
"It's a bit racist, don't you think?"
His eyes narrowed on Ames. "I meant it in a classical sense," McHugh said. "It's Hemingwayesque. You know, like Mugambo."
"Hemingway didn't write Mugambo."
"It's Mugamboesque," McHugh said.
"That's not a word."
"Of course, it is," McHugh said. "Anything is a word if you tag on -esque at the end of it, like Kafkaesque or Capraesque. You like It's a Wonderful Life, don't you?"
"I'm your partner." Ames rolled up the magazine as if to swat something, thought better of it, and then spread it out on the desk.
"Understudy," McHugh said.
"Would it hurt you to call me your partner?"
"I'm the Director of BERP," he said. "I can't have a partner. It would upset the public's image of me as a lone wolf."
"I'm the Associate Director."
"And it came with a nice bump in pay," McHugh said. He re-lit his pipe. "You can be my silent partner. In secret. How's that?"
They were inside the library of the 43 acre complex, complete with full-service cafeteria, home theater, and heated in-door pool. It was Saturday.
Ames pushed the magazine to the side and went back to the mail. There was the usual offering of grainy photos and eyewitness accounts written in a shaky hand—like the letters written by Son of Sam. Among the pile was a letter from an independent film company. They were interested in filming a documentary on McHugh. They had a limited budget, they explained, but were able to offer him $5,000.00 and six-percent of the box office take.
"I want final script approval," McHugh said.
"It's a documentary."
"I want approval over the final cut then," he said. "I don't want to look like an asshole again."
Ames instantly recalled a piece on McHugh for a Discovery Channel show titled Shadow Chaser that portrayed the legendary Bigfoot hunter as an inept bumbler.
McHugh stood. He paced about the room, puffing on his pipe and scanning over the photos and framed articles that adorned the walls. There were black and white photos of large footprints, plaster casts of large footprints, strands of suspicious hair, broken trees, and the silhouettes of shadowy shapes that may—or may not be—humanoid figures. He stopped at a signed photo of himself and a dark-haired man with a long face. Stay In Search Of…the mystery. All the best, Leonard Nimoy.
"Dr. Spock," McHugh said. "He knew how to treat us with dignity."
"Mr. Spock," Ames said. "Dr. Spock was a children's doctor."
"The public has lost its fascination with Bigfoot," McHugh said. "They've lost their fascination with the great mysteries of the world. Back in the day, we'd publish a grainy, blobby black-and-white photo of something purporting to be humanoid—never mind that it was a trick of lighting or some amalgamation of shadows—and they would just eat that shit up like it was a Delmonico steak. Now, they're content with their Internets and iPods and—"
"Internet," Ames said.
"What did I say?"
"Internets, indicating that there is more than one."
"Can you prove there is just one?" McHugh asked.
"As a general rule, we refer to it simply as The Internet, like The Universe—"
"Again," McHugh said. "Prove to me there is just one."
"I can't—"
"And their cell phones," he continued, "and satellite television—five-hundred channels, Ames. Do you know how many channels there were when I was a kid?"
"No."
"Not five-hundred."
Ames said, "I thought you wanted a specific number—"
"I've become a dinosaur. Look at me. You are looking at fucking dinosaur, Ames."
"Maybe we haven't looked hard enough—"
McHugh turned sharply to him. "Now you're sounding like them."
"Who?"
"Haven't looked hard enough? Jesus Christ. No one has looked harder than me."
"People naturally demand evidence—"
"And we've provided that!"
Ames opened more mail. There were a few more checks. Donations had helped keep the venture going, had kept it going for more than twenty-five years—and food on McHugh's table.
"We're down almost two-hundred and fifty dollars from last month," Ames said.
Buried beneath the mail was a letter addressed to Dr. Thor McHugh, PhD and bearing the familiar crest of the Pacific Northwest Consortium of Colleges, Institute for Anthropological Studies—
Dear Thor:
As you are aware, PNWC has adopted Chancellor Stevenson's bold, new vision for the consortium schools, and so, too, has Anthropological Studies. In so doing, we have been forced to take a long, hard look at the programs and research we have funded, what that has cost us, and what the results of that research have been. PNWC, and particularly Anthropological Studies, has been a key supporter of cryptozoological research in this country—long after such pursuits have fallen out of favor with the general public. When Chancellor Stevenson took over for Miguel Dominguez following his "illness," she reviewed a number of our programs and found many that have out-lived its purpose, such as the twenty-year study of the effects of folk dancing on Eastern European peoples conducted by our now-defunct Cultural Studies Department. Unfortunately, BERP has come under the scrutiny of Chancellor Stevenson as well. She has concluded, and rightly so, that thirty-one years is more than ample time to produce a Bigfoot.
It is with much regret that I write this letter. PNWC has enjoined a long relationship with Thor McHugh; however, due to a shift in policy, we will no longer offer funding to BERP and its research. Effective immediately, PNWC will cease financial support of BERP.
We wish you all the best in your future work, and thank you for being a part of the PNWC family for all these years.
Warmest regards,
Michael G. Lewis, Director
PNWC-Institute of Anthropological Studies
Ps. I apologize that you have received this information, via mail, but we were unable to reach you by telephone—since you have none.
Ames read the letter aloud to McHugh. When he had finished, McHugh remained silent for some time. Finally, McHugh took his pipe from his mouth and examined it. "I've got some twenty-seven hundred plaster casts of some really big feet." He re-lit his pipe and looked directly at Ames. "Do they think I'm tramping through the woods making them in snowshoes?"
Ames shrugged. "What are we going to do?"
"We're not going down like this," he said. "Looks like it's time the new chancellor met Thor McHugh."
"What are you going to say?" Ames asked nervously.
McHugh grinned. "She's a girl," he said. "With girl parts…and I'm Thor McHugh. I don't need to draw you any pictures."
"What should I tell this film company?" Ames asked.
McHugh took a dynamic stance, legs wide, arms crossed—pipe clenched firmly between his teeth. "Tell them Thor McHugh said, 'Yes.'"
"But what about the Animal X Magazine article? We don't have a crew of twenty-five researchers. We don't have a crew."
"We could say they were undone by a spot of flesh-eating bacteria."
Ames shook his head.
McHugh nodded slowly. "Time to consult our archives."
"Archives?"
"Put a call out to the former members of the Thor McHugh Li'l Feet Researchers…we'll make a contest of it."
"What about our dip in donations?" Ames asked. "We haven't put out any new footage in over two years."
McHugh ran his fingers over the silver-gray stubble of his beard. His eyes were a pale blue and bore the unmistakable look of a man resigned to a very messy task. "Time to put on the suit," he said.
Ames nodded. He stood from his desk, and walked to the bookcase. He removed Darwin's On the Origin of Species from the shelf, toggled the switch behind it. The bookshelf sprung free from the wall, revealing a hidden room. Inside, on a hanger covered in clear plastic, hung a large suit made of yak fur.
He took it off of the hanger and reluctantly slipped it on.
Links to Purchase Print Books
Buy The Late Great Thor McHugh Print Edition at Amazon
Links to Purchase eBooks – Click links for book samples and reviews
Is this book in Kindle Unlimited? Yes
Buy The Late Great Thor McHugh On Amazon
Read more about the author here.
Have you read this book? Tell us what you thought! All information was provided by the author and not edited by us. This is so you get to know the author better.