This book is bargain priced from 07/22/2014 until 09/30/2014
"Lucy The Cat" is a 5-Star book for kids and cat lovers.
It's a charming story about Lucy, the curious, cute Sacred Birman cat. Especially cat lovers of all ages will enjoy this book and it is excellent reading for children from 2 to 8 years. After reading this book you will certainly love Lucy The Cat. When Lucy was a small kitten she had to move away from her cat mama. Now she lives happily with her human foster mom and dad. She is always very busy because she wants to help her mom and dad in all kind of daily chores. She loves especially watering flowers, because water is a big mystery. Sewing machine is also very interesting and what would be more fun than climbing up the Christmas tree. Lucy is a modern cat and wants to know what's going on in the world. Laptop and iPad are excellent tools for that. And of course she is the boss and she has the final say. Lucy loves everyone and wants to be your friend. Let Lucy tell her own story with beautiful pictures and her own words. Meow to everyone!
"A humorous book with a very cute cat. I love the story teller – Lucy the cat and how she sees us humans, makes you think sometimes. Cat's a such characters! The pictures of the real cat are great and tell most of the story. Cat lovers of all ages will enjoy this book!" – Amazon Review
I hope you like cats. I love them all.
White and black and big and small.
Fluffy or striped – doesn't matter at all.
They are so cute I love them all.
Here comes my friend, Lucy The Cat.
Miss Lucy, please, tell your story. This book is yours.
Targeted Age Group: 2-10 years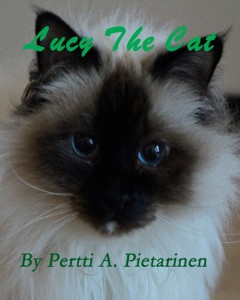 Book Price: 2.99
Link To Buy Bargain Book

How is Writing In Your Genre Different from Others?
Nothing special
What Advice Would You Give Aspiring Writers?
Know what you are writing about.
What Inspired You to Write Your Book?
My 4 grandchildren and our charming cat Lucy
About the Author:
Pertti A Pietarinen was born in Finland. He studied mathematics and computer sciences at the University in Helsinki, Finland. For thirty-eight years he worked globally in IT, games and mobile communications business, mostly in Finland, U.S.A and Japan.
During his business career he always had a dream to write books. This dream came into reality late 2010 when his first book was published.
2014 has been the year of Children's books. His 2 first illustrated Children's books in English were published in February ("Lucy The Cat") and April ("God's Children"). Both are available as paperback in Amazon, Barnes& Noble and other web stores and as Kindle e-book in Amazon.
His charming illustrated fairy tale book "Kissa Kiiskinen sankarina ja muita satuja" was published in March. So far it is available only in Finnish, but hopefully some day translated also in English. This book is filled with fascinating stories about cats, dogs, horses, princes, princesses, witches, trolls and other traditional characters, published in March 2014.
Lucy The Cat is now available also in Finnish and it is called "Lucy-Kissa, Lucy The Cat".
His 3 first books, published in 2010-2012, belong to Christian genre and are available only in Finnish.
As an author his main influences are classical writers like Leo Tolstoy, F. Dostoyevsky and Jane Austin, but he loves also J. K. Rowling, and The Holy Bible always influences him.
Pertti's main sources of inspiration are his 4 lovely grand children, 2 boys and 2 girls, and the charming, cute Sacred Birman cat. You guessed, she is Lucy The Cat. And of course the world events have their impact in life and sometimes also in writing.
Pertti's favorite hobbies are music, reading, movies, photography and traveling.
Website(s)
Author Home Page Link
Link To Buy Lucy The Cat
Social Media:
https://www.goodreads.com/author/show/7836563.Pertti_A_Pietarinen
https://www.facebook.com/lucythecat
http://twitter.com/PerttiP
http://www.pinterest.com/perttip/