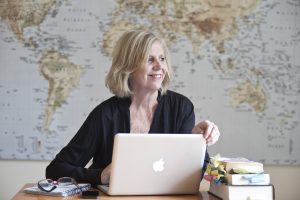 About Viv Young:
Viv Young is an author, journalist and screenwriter for film and television. She lives in Sussex, England with her family. HUNGRY FOR LIFE is her first Kindle publication and the historical novel is also the first in a series of books known as The McLaughlin Chronicles which will take the reader on a journey with the McLaughlin family through Irish history, from 1847 to the present day.
What inspires you to write?
Although I have a journalistic background of writing about facts and reality, I have always had an unruly imagination that constantly draws me down the 'what if…' paths of life. So inspiration is all around me.
Tell us about your writing process.
I do a lot of thinking and preparation ahead of putting those first words down. have a Masters in screenwriting and when I write screenplays, I work very hard to get a solid structure in place. Then my characters can drive right through it as they take on a life of their own. It is pretty much the same when writing proser: You have it all planned, but then the characters start to steer the story. Sometimes, you get a better outcome by giving them free rein, at other times you have to haul them back to the creative path you chose. For my historical fiction Hungry for Life, I also did an enormous amount of research into the period (1840's) visiting both Ireland and Boston to ensure authenticity.
For Fiction Writers: Do you listen (or talk to) to your characters?
No, but they do talk to one another. I like to try and get into their heads – find out if what I am making them do is real, and credible. If it isn't, the reader will be disappointed.
What advice would you give other writers?
Try and write every day, even if it's just a few lines or a piece of dialogue. When I don't write, I think about what I'm going to write next, so I'm never far away from my characters, or the next project.
How did you decide how to publish your books?
I have a collection of some of the most impressive rejection notes an author could wish for, and eventually decided to publish on Kindle and let the readers decide. With a great review from the NY Journal of Books, and mostly 5 star reviews on Amazon, I made the right decision.
What do you think about the future of book publishing?
I think the digital publishing scene is very exciting, but it is demanding authors also become effective marketeers. There are millions of words published each year and every author has to fight to get readers' attention. I still love hard copy books, though, and collect first editions – mostly by trawling thrift shops and flea markets!
What do you use?: Professional Cover Designer
What genres do you write?: Historical fiction, true crime, contemporary fiction.
What formats are your books in?: Both eBook and Print
Website(s)
Link To Viv Young Page On Amazon
Your Social Media Links
Goodreads
Twitter
All information in this post is presented "as is" supplied by the author. We don't edit to allow you the reader to hear the author in their own voice.