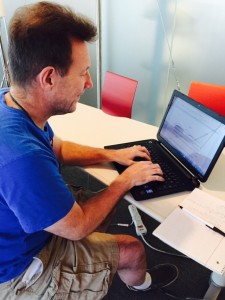 About Vinnie Sorce:
Vinnie Sorce is an award-winning* author debuting his first book, Jersey Justice.
He's been a writer for over ten years, selling articles and short stories along with blogging.
He grew up in North Jersey and currently lives in Arizona with one remaining child that hasn't escaped yet. He likes to read, watch too much TV, wear his heart on his sleeve, and overexamine situations that haven't occurred yet.
Oh, and he eventually wants to save the world. No super powers are making that a difficult job, though.
*Now, when I say award-winning, I mean an award I made up and gave to myself. It was a beautiful ceremony. I cried.
What inspires you to write?
TV, Movies and books always inspire me. I take the feelings that I've been graced with from watching or reading and translate them into my own characters and scenarios.
Tell us about your writing process.
There's a process? I have several author friends (two of which are my sons, who want to be screen writers) who cringe when I say, "I just sit down and write." My first book evolved just from the title, Jersey Justice, and the name of the main character, Jimmy Vincent. I love the the way those sounded and built the story from there.
For Fiction Writers: Do you listen (or talk to) to your characters?
On my blog, I had my main character interview me. (Go. Check it out. Link below.)
I'm not sure that I talk to them, but they are always talking in my head, even when I'm not writing.
What advice would you give other writers?
Don't give up. I wrote this book quite a few years ago and looked for an agent for years and had no luck. A writer friend of mine finally pushed me far enough to self-publish and I'm glad I did. Even if it never goes any farther than that, I did.
So, don't give up!
How did you decide how to publish your books?
An author friend believed in my work so much that she offered to pay for the editing, which I could not afford. For years I was unable to find an agent or publisher and with my good friend pushing at my back (OK, more like wildly shoving me forward) I went with self-publishing.
What do you think about the future of book publishing?
I think we're still a long way off from losing "real" books. I prefer a book in my hands than on my tablet. I currently only have an e-book out, but I am following up with a paperback soon.
What genres do you write?: Thriller, action
What formats are your books in?: eBook
Website(s)
Vinnie Sorce Home Page Link
The Interview
Link To Vinnie Sorce Page On Amazon
Link to Author Page on other site
Your Social Media Links
Goodreads
Facebook
Twitter
LinkedIn
All information in this post is presented "as is" supplied by the author. We don't edit, to allow you, the reader, to hear the author in their own voice.