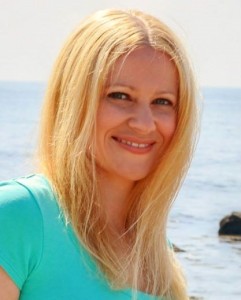 Author Bio:
Stephanie is a graduate of Emerson College, receiving her BFA in Writing, Literature and Publishing. At fifteen she discovered her love for creative writing after a poem of hers was published in the 21st Century Poetry Journal. After that she began writing fiction, personal essays, and screenplays.
While at Emerson College she discovered a passion for writing children's stories as well. Lucy's Amazing Friend was inspired after meeting her husband's high school friend who lives with autism. She lives in Exeter, NH with her husband Tim, their cat Sophia, and bird named Bird.
What inspires you to write?
My life, stories I hear, people I meet, my own experiences, etc.
Tell us about your writing process.
Inspiration for new stories usually pop up in my head while I'm busy doing something else. I then get distracted from my task at hand and plan out the whole story in my head. Sometimes while I'm about to fall asleep at night I get an idea, get out of bed, and write it down before I forget.
For Fiction Writers: Do you listen (or talk to) to your characters?
I pretend I am the character.
What advice would you give other writers?
I wrote my first blog on my website called Using Quotes in Your Published Book: How I Learned the Hard Way. Anyone who is a first time self publisher like I was should read it.
How did you decide how to publish your books?
I wanted absolute control over my book. Once I met someone who self published and saw what a positive experience she had I decided to do it.
What do you think about the future of book publishing?
I think more and more writers want absolute control over their book. I think self publishing is going to get even bigger than it already has become. It's not as intimidating as it once was and more accessible.
What do you use?
Professional Editor
What genres do you write?
children's fiction, adult fiction, poetry, personal essay, screenplays
What formats are your books in?
Print
Website(s)
Stephanie Workman Home Page Link
Link To Stephanie Workman Page On Amazon
Link to Author Page on other site
Your Social Media Links
https://www.goodreads.com/author/show/8443292.Stephanie_Workman
https://www.facebook.com/stephanieworkman15?ref=hl
https://twitter.com/StephanieWork17
http://www.pinterest.com/sjworkman79/