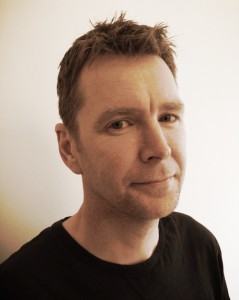 About Richard Ayre:
I am a writer of (mostly) horror fiction during the night, but during the day I work as a History teacher. I live in the wonderful city of Newcastle upon Tyne in the UK. (The best city in the world BTW!). My writing is influenced by horror writers such as James Herbert but I also love other genres such as the historical fiction of Bernard Cornwall (Uhtred of Bebbanburg is a Northumbrian like me), and even good old fashioned thriller writers such as Alastair Maclean and Desmond Bagley. I think my favourite author though is Derek Robinson, I love his use of language that can have you laughing out loud one minute and wide eyed with shock the next. I love some of the classics, especially Dickens (Great expectations has to be right up there as one of my favourite books), and of course Bram Stoker's Dracula, and Mary Shelley's Frankenstein. I love the idea of being a writer. It took me so long to get Minstrel's Bargain published, but now that it is it really is the most fantastic feeling.
What inspires you to write?
The inspiration to write has been a long time coming for me. I can think of nothing better than to put down on paper those thoughts that rattle around in your head. Its a very strange thing to do. The writing sometimes takes forever and at other times comes out so fast that my monkey fingers can't keep up! But that feeling, when the characters start to gel, when the story starts to come alive, is a feeling like no other. I suppose what inspires me to write is the fact that not to write would be a crime. I would feel that I had let myself down. And it does not really need to be successful to be worth it. The feeling when your story is done and is staring at you from the laptop is such a wonderful feeling of satisfaction that it makes you continue. The thoughts then turn to what would happen in a sequel to this story….? And then the whole thing begins again!
Tell us about your writing process.
For Minstrel's Bargain it was definitely seat of the pants. I had a rough idea of what I wanted to put across, and a sketchy view of what the outcome would be, and I simply filled in all the other bits, sometimes changing things as I went. I feel this leads to massive amounts of revision later though. For my second manuscript Point of Contact (any interested publishers out there?) I had an outline, but it was revised hugely to the extent that some characters disappeared and others morphed into completely different people. I'm working on the sequel to Minstrel's Bargain now and I have a plan, although its very rough and ready, its simply a couple of sheets of A4 where the outline of the story lives. I know it will change as I go through it though. So yes. I am a seat of the pants man.
For Fiction Writers: Do you listen (or talk to) to your characters?
I've never talked to my characters, although I do feel that Sturgess, the main character in Minstrel's Bargain, is very much like me. A friend of mine who read the book said that he imagined him as me 'with a beard'. And that's strange because in my mind he is very different from me physically. I do get emotionally involved with my characters though. When one of the main characters in Minstrel's Bargain was killed, I admit I had a lump in my throat. Its almost like they become real people, and you miss them when they're gone. I think they have to that real though. They need to shine on the page so that readers can relate to them. Whether they are good or bad.
What advice would you give other writers?
Listen to this very carefully. NEVER GIVE UP. I wrote Minstrel's Bargain when I was 28. I'm now 49 and its only just been published. I gave up on it. I gave up on the dream that one day I would hold a copy of this thing in my hand that had for so long been a part of me. I'm so pleased that it eventually got published. I was actually looking for a publisher for children's poetry. My father was an extremely talented man who painted as well as wrote poems for children. He passed away last year and I had an idea of trying to get some of his sketches and wonderful poems published. I still want to do that, but at the time it came to nothing. However, whilst searching I came across Bloodhound Books' website and decided to try and resurrect Minstrel's Bargain, and they took it on. It really was as random as that. I would like to think that dad had something to do with that. He would have been over the moon to see me published.
How did you decide how to publish your books?
As I've said, it was a long time coming. I found the Bloodhound Books website and something about it seemed to call out to me, I really can't explain it. They wanted three chapters, and I had recently uploaded exactly three chapters (it was originally written on a typewriter!) and so I thought I would give it a go. I always knew that Minstrel's Bargain was a good story, hopefully told well, but when I originally tried to get it published in the early 90's nobody wanted a horror story, so it went and lived in the loft. It really is just random luck that I came across the publisher's website. Nothing more than that.
What do you think about the future of book publishing?
There are so many more opportunities for becoming a published author now. Self publishing, small indie presses etc. I think that the big publishers will survive, and contrary to some, I believe that some bookshops will go on, although so many small ones have closed down now because of Amazon etc. The publishers have at last woken up to the fact that people want to write, and I think that, if your writing is good enough, and if you never give up, you will get your book in print. I think the future looks quite good.
What do you use?: Professional Editor, Professional Cover Designer
What genres do you write?: Horror, supernatural thrillers.
What formats are your books in?: Both eBook and Print
Website(s)
Richard Ayre Home Page Link
Link To Richard Ayre Page On Amazon
Your Social Media Links
Goodreads
Facebook
Twitter
All information in this post is presented "as is" supplied by the author. We don't edit, to allow you, the reader, to hear the author in their own voice.