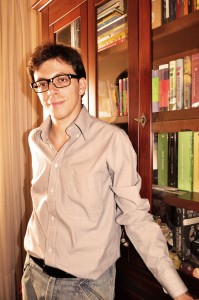 Author Bio:
Always fond of the fantastic in all its forms, Marco has worked since 2006 with Fantasy Magazine, an Italian online magazine, of which Marco is currently active editor. Moreover Marco is responsible of the department for writing and communication of the Italian Lunatica, fantasy fair. He has published numerous articles, reviews, short stories, interviews and insights in magazines both online and printing ones. He is also interested in design, music, cinema and video games and has worked as a blogger and social media manager for Fanucci Editore. He is currently attending the Lupiae Comix, Cartoon and Comic school in Lecce. In October 2012 Marco published his first novel, 'Dark Rock Chronicles,' with the Italian publisher Plesio. DRC will be published by DieGo Comics Publishing for first time in English in November 2013. – See more at: https://www.diegopublishing.co.uk/Authors#sthash.M9bdpNJ5.dpuf
What inspires you to write?
The simple need to tell stories. I have always done it. I think it's a common need for everybody, someone does by singing, others by drawing, I like to write.
Tell us about your writing process.
It depends. Lately, I spend much more time in the planning stage and the character design. When I wrote DRC I did it more instinctively, leaving me to carry while writing. The design phase is important, both to better delineate the details and to facilitate the process of writing itself. I do not feel bound, however; at any time I am free to change anything.
For Fiction Writers: Do you listen (or talk to) to your characters?
Sometimes I mime scenes. I know that there are many people doing it. When I was at the comic school teachers recommended us to mimic the gestures of the characters. It is important for comics and illustration and graphic arts in general, but I've always found useful also for writing. Yes, sometimes I talk with my characters. It may seem crazy, but I find it a very natural process, a symbiotic one.
What advice would you give other writers?
Writing for the fun of it, first of all. Never start thinking "I need to print it at all costs." Publishing comes next. Then of course everyone has priorities. Mine is writing and find satisfaction in my stories. Over the past several years I have gained experience in the publishing industry and I admit that this made ​​me miss the early part of the light-heartedness, but the motivation, the approach to the stories, that has not changed.
How did you decide how to publish your books?
I wanted to share my stories with others. Although this is a natural stage, almost primordial. Every artist, both amateur and professional, need to share his work. That's what art is about: sharing.
What do you think about the future of book publishing?
The only certainty is that we will continue to read. Otherwise the publishers will have to keep his eyes peeled on any new discovery. Books become more and more a multimedia tool that goes beyond the printed or digital pages, therefore it's needed to keep pace with the new tools, without forgetting the needs of the readers, they are also evolving.
What do you use?
Professional Editor, Professional Cover Designer
What genres do you write?
Fantasy
What formats are your books in?
Both eBook and Print
Website(s)
Marco Guadalupi Home Page Link
Your Social Media Links
https://www.goodreads.com/author/show/6560066.Marco_Guadalupi?from_search=true
https://www.facebook.com/DieGoPubl?ref=hl&ref_type=bookmark
http://DieGoPublishing
http://www.pinterest.com/kofmagazine/