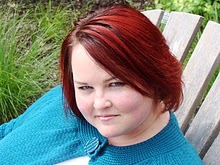 Author Bio:
Jesi Lea Ryan grew up in the Mississippi River town of Dubuque, IA. She holds bachelor degrees in creative writing and literature and a masters degree in business. She considers herself a well-rounded nerd who can spend hours on the internet researching things like British history, anthropology of ancient people, geography of random parts of the world, bad tattoos and the paranormal. She currently lives in Madison, WI with her husband and two exceptionally naughty kitties.
What inspires you to write?
I tend to be character motivated rather than plot or action motivated. I guess what I mean by that is it is the character who comes to me first. Only after I have a fully-formed character in my head do I start to think about what sort of situation I can place them in or what kind of trouble they might get up to.
As for where where the characters come from? I don't really know. Song lyrics, photographs, a snip-it of dialogue…any of these can trigger a character to form in my head.
Tell us about your writing process.
I'm not much of a pre-planner. Because I start with character, I tend to have my main characters fully formed before I start writing, but I only have a vague idea on the plot. My typical outline goes something like this:
* Messed up character in messed up situation
* Stuff happens – Trouble ensues
* Character is redeemed with a HEA or HFN (happily ever after or happy for now)
That whole middle part is the big struggle. 🙂
For Fiction Writers: Do you listen (or talk to) to your characters?
I'm in control of my characters. I don't talk to them like they can hear me as some writers do. My mind just doesn't work like that. However, there have been a few times when a completely unexpected thing winds itself into my manuscript that I didn't plan for at all. Maybe this is evidence of the characters taking the wheel.
What advice would you give other writers?
It is not enough to write a great book. There are thousands of great books out there that nobody reads. If you want to write for a career, you need to learn the business of your industry. All of it. It doesn't matter if you are a traditionally published author or indie. You have to understand basic business concepts, advanced marketing concepts and how to handle your money. I actually have my Masters in Business Administration degree, and as a writer, I use it every day.
How did you decide how to publish your books?
My first book was published by a small press, and it failed. There are a lot of reasons for this, but in the end, it taught me valuable lessons. After that experience, I decided to take charge of my own career and indie publish. I have done much better for myself on my subsequent books. I'm not saying indie publishing is right for everyone, but it was right for me. My advice to new authors is to read everything you can about all types of publishing to determine which direction is right for you.
What do you think about the future of book publishing?
My characters are psychic – I'm not. However, speaking from a business perspective, I think technology and innovation has transformed the publishing industry irrevocably. Those who want to bury their heads in the sand or dig their heels in against change risk being left behind…or at the very least, not maximizing their potential.
What do you use?
Professional Editor, Professional Cover Designer, Beta Readers
What genres do you write?
Paranormal romance, urban fantasy
What formats are your books in?
Both eBook and Print
Website(s)
Jesi Lea Ryan Home Page Link
Link To Jesi Lea Ryan Page On Amazon
Link to Author Page on other site
Your Social Media Links
https://www.goodreads.com/author/show/4375098.Jesi_Lea_Ryan
https://www.facebook.com/pages/Jesi-Lea-Ryan/152086598147945?ref=bookmarks
https://twitter.com/Jesilea