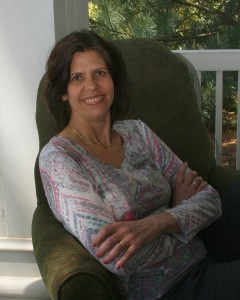 Author Bio:
Darlene Gardner no longer spends her days waiting for an athlete to say something interesting. Nope. Now she makes up her own quotes and torments people. Fictional people. Promise.
Although leaving her life as a newspaper sportswriter behind for love and romance worked out pretty well, she's veered off in a haunting new direction with the Dead Ringers eBook serial, landing at an beachside carnival where evil lurks and nothing is as it seems.
Darlene has more than thirty books in print, from single-title romantic comedies to emotionally charged family dramas. Updated editions of her romcoms, as well as a couple romantic mysteries, are available for the eBook market.
What inspires you to write?
I've always written. Always. I can remember a sixth-grade teacher advising me to explore my talent. I majored in journalism in college (I'm Penn State proud!) and wrote features and sports for major daily newspapers before becoming a full-time novelist. Anything and everything inspires me. I think an author's subconscious is always at work, looking for material that can be incorporated into a book
Tell us about your writing process.
I'm an outliner. I can't write the second scene until the first scene is complete. So everything is very linear. I also work off a detailed synopsis. I write a loose outline before I start the book, write three chapters to get a feel for the story and then go back and flesh out the synopsis. Later on in the process, I like to do a file of bullet points. These are one-line descriptions of scenes. I juggle these one-liners and add and subtract from them until the plot makes sense.
For Fiction Writers: Do you listen (or talk to) to your characters?
I listen to my characters! I'm constantly writing bits of dialogue on scrap paper I find around the house. I know shorthand so sometimes the dialogue is in shorthand!
What advice would you give other writers?
Never give up. If you have a passion to write, feed it!
How did you decide how to publish your books?
When I first started writing, epublishing was not a viable option. So I submitted to publishers and had quite a lot of luck. I've had 25 books published by Harlequin from romantic comedies to contemporary romance. I also had romantic comedies published by Avalon Books and the now-defunct Dorchester Lovespell. Some of the books from my backlist, including my three single-title romantic comedies, are now available as eBooks.
I decided to go indie with the nine-volume Dead Ringers serial because an author has to go where the idea takes her. I kept picturing a teenage girl who knew she'd been abducted but had no memory of what happened. I adore books set in the real world with one skewed element that takes the story in an eerie direction. It seemed like the indie market was the best place to experiment.
What do you think about the future of book publishing?
This is such an exciting time for both authors and readers. With the popularity of epublishing, there's something out there for everyone.
What do you use?
Professional Editor, Professional Cover Designer
What genres do you write?
Young Adult, Romantic Comedy, Paranormal Romance, Contemporary Romance
What formats are your books in?
Both eBook and Print
Website(s)
Darlene Gardner Home Page Link
Link To Darlene Gardner Page On Amazon
Link to Author Page on other site
Your Social Media Links
http://www.goodreads.com/author/show/29623.Darlene_Gardner
http://www.facebook.com/DarleneGardnerBooks
http://twitter.com/DarleneGardner
http://www.pinterest.com/darlenegardner1