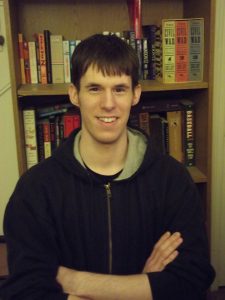 About Alex Hansen:
Alex Hansen is a part-time writer from Pennsylvania who specializes in interpretive rewrites of elementary school science textbooks.
Just kidding. But he has written about demons, dystopias and drive-thrus, so maybe nothing is off-limits. Inspired by a broad range of authors including Stephen Crane, Oscar Wilde, Dean Koontz and K. A. Applegate, he strives to craft interesting and relatable tales that have a little bit of heart and plenty of comedy.
What inspires you to write?
There's just so much stuff out there that's fascinating, from the intricacies of time travel paradoxes to the complexities of what makes a person tick. Writing, for me, is a way to explore anything and everything that strikes my fancy. Also, it's a way to make me giggle to myself while I'm working on something particularly weird.
Tell us about your writing process.
It usually starts with an idea that comes to me during a sleepless night or a hot shower. Then it progresses to the planning stage, which involves jotting down a lot of notes to myself during work and culminates in combining all those notes into a semi-coherent typed form. Then I'll write a couple of chapters, abandon the project for a few months because it's horrendous, and then stumble across it on my hard drive a while later after I've forgotten how much I hate it. The rest of the process goes pretty smoothly after that.
I guess I'd say I plan about half of my plot points and ten percent of my most important dialogue ahead of time and for the rest of it I'm flying blind and seeing what happens.
For Fiction Writers: Do you listen (or talk to) to your characters?
I tend to act as my characters instead of interact with them. I occasionally test out chunks of dialogue aloud—sometimes it's entire conversations. It helps me figure out what the most natural phrasing is and where to punctuate or italicize. But I realize that this looks crazy, so if I'm in public and you see my lips moving, it's because I'm doing my best to hide my craziness.
What advice would you give other writers?
Steer into the skid.
If there's a common thread to your stories or a common criticism against them, don't force yourself to change what kind of writer you are. Double down on whatever it is and make it your own. Maybe if you polish what some people dislike about your writing, it can become the special ingredient that sets you apart from the boring masses.
How did you decide how to publish your books?
I'm kind of a wimp. I allow myself to become discouraged very easily when things are difficult. After sending out exactly one query letter and receiving exactly one rejection, I realized that I'd probably be able to talk myself out of ever doing that again.
Rather than sit there being discouraged, I opted for the easier route of self-publishing. I'm by no means successful, but I have four novels out now, and that's something to be proud of. And I'm pretty sure I wouldn't have done nearly that much writing if I'd stuck to sending out query letters.
What do you think about the future of book publishing?
Man, I don't know.
As much respect as I have for tons of traditionally published authors, I've started to read a lot of indie books lately, and we have a lot to offer. It'll be interesting to see how it all plays out, though.
What do you use?: Professional Cover Designer, Beta Readers
What genres do you write?: humor, science fiction, new adult, literary fiction, fantasy, paranormal
What formats are your books in?: Both eBook and Print
Website(s)
Alex Hansen Home Page Link
Link To Alex Hansen Page On Amazon
Your Social Media Links
Goodreads
Twitter
All information in this post is presented "as is" supplied by the author. We don't edit to allow you the reader to hear the author in their own voice.