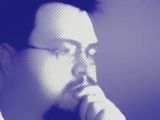 Author Bio:
Born and raised in California for half my life, then up to Oregon for the other half up to about four years ago, then back to California. I've been a bibliophile since the age of two and a numbers nerd for about the same length of time.
My childhood was a happy one; I had what I needed and most of what I wanted and apart from a couple of bumps in the road, my adolescence was a fairly smooth one. The general angst that came with what channeled into some poorly thought out and regrettably pretentious poetry which will NEVER see the light of day.
I currently live with three roommates and a Corgi-Chihuahua cross named Penny.
What inspires you to write?
I find that music will often put me in a mood to write, but I have to be careful what I listen to. The more somber the music, the more negative emotion gets put into the text.
As for where the ideas come from, sometimes they spring from what I've already written are merely continuations of the thoughts already in process on the page. Other times, a new idea will strike me in the middle of doing my daily work or while I'm writing something else entirely, so I have to jot down what I can before the thought evaporates.
Tell us about your writing process.
It's slow. I've tried outlining my work in the past, but I make so many deviations from it over time that it hardly seems worth the trouble. If it works for someone else, that's great, but it's not for me.
I start with the kernel of an idea and let my characters run with it; how would they react to the information that's coming in? I view the writing process more like taking dictation from a movie that's playing out in front of me. While I could make the characters say just about anything I want, to do so would come off stilted and perhaps even inappropriate for the scene in question or book as a whole. To be fair, this does occasionally lead to writer's blocks made of solid steel, but that forces me to find a way around it, rather than attempting to make my way through it.
For Fiction Writers: Do you listen (or talk to) to your characters?
Given my process, it's about 50-50. It's as much about "What should they say?" as "What would they say?" I'll toss an idea to my characters, let them run with it, and if it doesn't sound right, I'll come up with something else more suitable.
What advice would you give other writers?
However frustrating you may find the process, don't give up. There is nothing wrong with wanting to make your book the best it can be, and don't let anyone tell you, "Oh, just finish it already, you can make changes when you've reached the end/when someone makes a comment that you need to fix something."
You are your own worst critic, but that's not a bad thing; if you can see where a change needs to be made that your beta readers can't, then go ahead and make the change — if it's a major one, save your new draft as a copy, should you need to go back.
If I'd saved every revision I made though, it would easily fill a CD.
How did you decide how to publish your books?
I'd originally thought about a small print run, but with the growing popularity of Amazon and coming to work at Smashwords, my thoughts on distribution changed.
All I can say is that an author who wants to distribute a book in print or electronically needs to do research and find what will fit within a budget (if any) and satisfies the desired exposure.
What do you think about the future of book publishing?
There will always be a place for the print publisher, and those who would rather feel a book in hand than a tablet or other electronic device. However, the game has changed, and the rules that applied even twenty years ago, while still relevant, do not shut doors on new authors now as they did then.
What do you use?
Beta Readers
What genres do you write?
Mystery/Suspense
What formats are your books in?
eBook
Website(s)
Author Home Page Link
Link to Author Page on other site
Your Social Media Links
https://www.facebook.com/aaron.fernandez.9085
https://twitter.com/LogoPhile1984