This book promotion starts – 05/18/2013 at midnight PST and ends at 11:59 pm on 12/31/2013. If the dates are the same that means the book promotion is one day only.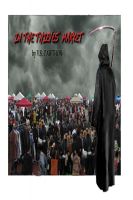 IN THE THIEVES' MARKET is V.S. Cawthon's debut cerebral indie novel. His writing style is like a candy store for the well read intellectual, with dozens of literary references marking the way as two brothers help each other through a rough patch in hopes of cobbling together a rewarding stretch in what remains of their thus far less than fulfilling lives.
Cawthon's introspective novel focuses on the psychological and physical struggles for survival faced by two brothers, both Boomers nearing the end of middle age. The younger brother has been diagnosed with stage 4 lymphoma, his alcoholic older sibling is struggling to survive financially while trying to maintain a near-bankrupt flea market silver business.
Over the course of one north Florida summer the brothers confront old demons and fresh challenges in approaching the next, and last phase of their lives together. The culmination of the summer's struggles, while bittersweet, lead to a greater understanding between the two formerly close siblings, and emphasize again the need, never 'to go gently into that good night.'
Targeted Age Group:
21 – 79
V.S. Cawthon is a business owner, jeweler, and author. In The Thieves' Market is his debut novel. He currently resides in Tallahassee, Florida.
Is Book Free or Discounted?
Free
Website(s)
Author Home Page Link
Link To Book On Smashwords