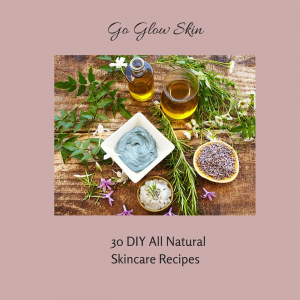 What inspired you to write your book?
I always thought of myself as having "sensitive" skin that would chronically become dry, red or inflamed no matter what new, expensive treatment I would try. After learning of all the hazardous chemicals lurking in our favorite drugstore beauty products, I realized it was the use of these products I was putting on my skin 2-3 times a day that was making it so unhealthy. I was shocked to learn that many of the listed ingredients are causing harm to our bodies which includes allergies, inflammation and even cancer. I began using all natural ingredients on my skin a few years ago in place of the toxic products I had used in the past with AMAZING results. My skin transformed from dull and irritated to healthy and glowing almost instantly. I wanted to share some of my favorite recipes and offer a little bit of education too in the process.
About your Book:
Have you ever wondered what those hard to pronounce ingredients are that are listed on the back of your favorite, expensive skin cream? Have you ever wondered if those ingredients are causing harm? Did you know that most "active ingredients" that are listed in our favorite pricey drugstore products are actually ingredients derived from natural products found in our environment? You can achieve beautiful, glowing skin free from the harsh chemicals that are toxic to our bodies. I have compiled 30 easy DIY all natural recipes made from ingredients you can find right in your own kitchen. Create your own spa experience at home. You'll achieve healthier, nourished skin, feel refreshed and save quite a bit of money too!
Craft or Tutorial Genre
All natural skin care recipes
What formats are your books in: eBook
How do you see writing a a craft book or tutorial as different from writing other genres of books?
My focus has been on skin care since that was my main problem area. After educating myself and correcting my problem in a very healthy way with great results, I wanted to share what I've learned with others so they too can experience the same benefits. I felt this genre of book would be a great way to share what I've learned.
Advice to someone that is thinking about or currently working on a craft book or tutorial
If you have a talent or skill or have learned something new that would benefit others, share! 🙂
How did you decide how to publish your book and where is it published through:
I decided to create an eBook and published it through Amazon. You can also find my eBook listed shortly on my website. There you will find useful information on how to have amazing skin.
E. Marie King Bio:
I'm a mother, nurse and health nut. My interests are holistic health, organic cooking, fitness and writing.
Website(s)
Author Home Page Link
Where to Buy Your Book
Link To Book On Amazon
Your Social Media Links
http://www.twitter.com/goglowskin