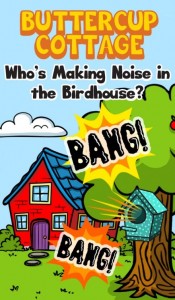 This book is bargain priced from 09/22/2014 until 09/29/2014
Buttercup Cottage is the second in a new series with colorful puppet illustrations and speech bubbles which will encourage reading. Each series will help children learn about manners, eating right, self image and more.
Targeted Age Group: 4-8
Book Price: $0.99
Link To Buy Bargain Book

How is Writing In Your Genre Different from Others?
With colorful puppet illustrations, and speech bubbles.
What Advice Would You Give Aspiring Writers?
Just write!
What Inspired You to Write Your Book?
The puppets in this book series are illustrated, but real. They have in the past had a weekly local tv show which children loved. In an ebook they will also love them, and be encouraged to read.
About the Author:
Elizabeth Purcell has been entertaining children for 20 some years. She has 6 children, 17 grandchildren and 9 great-children, all of whom give her a myriad of ideas daily.
Website(s)
Link To Buy Buttercup Cottage/Chuck Chirp